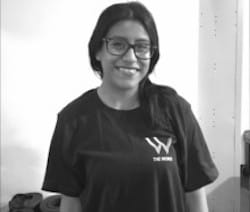 Nayeli Jimenez
Education:
Syracuse University – B.A in sociology and forensic science.
Certifications:
Balanced Habits Food Coach Certification
Where are you from?
Queens, NY
What interests you about fitness/nutrition?
What interests me about fitness and nutrition is that it is an outlet for to me to let go of any frustration or stress. Living in NYC we can get caught up with the hustle and bustle. For me, eating healthy and training helps me keep a clear mind.
What do you do for fun?
This question makes me sound like a boring person, but I usually work out and listen to podcasts. When I'm actually social, my friends and I like to go out to eat out to new restaurants. We are foodies at heart.
Personal fun fact:
I have never broken a bone or traveled outside the United States.
Favorite Quote:
Stay humble. Stay hopeful.