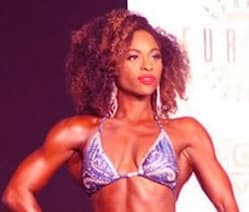 Keisha Thomas
Shows/Placings:
3rd place in Figure Open, a few bikini shows before I realized I had MUCH more of a Figure body!
Where are you from?
Queens, NY
Education:
BS in Accountancy from LIU Post
What got you into competing?
I was always active, whether it be in volleyball, at the gym, or dance (I technically trained in ballet, tap, jazz, modern, and hip hop). I never felt comfortable in my own skin. I felt as though my body never reflected how active I was. I came to Team Works for guidance on the big picture: nutrition and workout guidance. However, it wasn't my intention to compete; I just wanted to look like I did! As I spent more time around the around the Ladies of the Team, I fell in love! I threw all caution to the wind and just committed to it. Now, it's what I look forward to!
What do you do for fun?
Read, go dancing, and cook.
Personal fun fact:
I'm a huge klutz!
Favorite quote:
"Don't quit. Suffer now and live the rest of your life as a champion." – Muhammad Ali