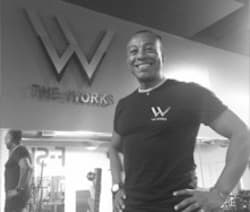 Guillermo Dodd
Certification(s):
-NASM, Certified Trainer Certification
-CPR-AED Certification
-AFAA Aerobic Fitness Certification

Training Specialty:
-Women's BootCamp
-Group BootCamp
-One on one and group personal training
-Group fitness instructor

Where are you from?:
Panama

What got you into training?:
Growing up, I was never that interested in sports and my PE teachers really never made it look like much fun either. Soccer and basketball were never my and in Panama's systems sports activities revolve basically around soccer, basketball, and baseball. Sports that had to do with sculpting and enhancing the human body like gymnastics were always my thing. After graduating from the university I enrolled in group fitness program to become a dance aerobic and step fitness instructor. I loved it because it combined my love of dancing, music, exercising and my passion for teaching all in one - it was heaven!. Soon after, I began lifting weights. After seeing the positive changes and all the benefits in my personal life, I began a lifetime commitment to as many other people as I could to achieve the same changes and happiness that I got. I wanted to help others have a positive and happy life experience in their own bodies and as a result their lives.

What do I do for fun?:
Dancing; watching telenovelas; listening to music (trans-house, house, and deep-house, lounge, chill, ballads); playing with my kittens; bike riding; spending time with my friends; hanging out at the beach; into and vampire stories (both watching and reading); cooking; weight training.

Personal fun fact:
I'm a polyglot – English, Spanish and Portuguese.

Favorite quotes:
-"Mas vale " = Better safe than sorry!
- Serving Ovahness!!