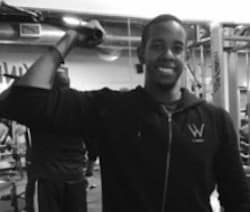 Edward Cruz
Certification:
NASM
Training Specialties:
Circuit training, weight loss, general conditioning, strength, flexibility, cardiovascular health
What got you into training
:
A lot of my friends and family are overweight and make poor health choices. They've always
gone and asked others for "tips" on how to be healthier and almost always get
bad
, generic advice that didn't work for
them. I wanted to be the one to guide them and others properly on how to live a healthier lifestyle.
Personal fun fact
:
I love movies! My brother and I often quote entire scenes from movies and the other has to guess what
movie it's from.
Favorite quote
:
"If you're not making someone else's life better, then you are wasting your time. Your life will become
better by making other people's lives better." — Will Smith