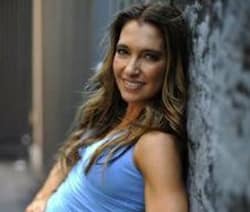 Claudine Noelle
Shows/Placings:
15 top five placings during 2009-2013 across NPC, FAP, and WBFF organizations. Competed at NPC National Level. NPC Figure placings include:
NPC Orange County 2008 1st Place Open
NPC Eastern March 2009 5th Place Open
NPC San Diego March 2010 2nd Place Open
NPC Metropolitan April 2010 3rd Place Open
Where are you from?
Born an old fashioned Italian Jersey girl, and NYC is my playground.
Education:
Certified Nutrition Coach (Precision Nutrition)
Ph.D. Biochemistry, UCSD
B.S. Bioengineering , UCSD
What got you into competing?
The desire to be around like minded women who believed in making fitness and nutrition an important part of their life.
What do you do for fun?
Tae Kwon Do, traveling and hanging with friends and family
Personal fun fact:
I love to experiment with food and sometimes wear my lab coat and goggles when I cook
Favorite quote:
"You will be too much for some people… Those aren't your people!"
Coaching is not about helping someone lose weight or having a sexy, stage-ready body. The sexy, fit body is just side effect of focus and consistency. A mindset which Team Works and having a coach can help you achieve.
I competed while having a very demanding work schedule and you can too. It is about changing your mindset and being in the right environment. Being a part of Team Works will provide the tools and support. If you put your heart and mind to it, and follow my orders, and I will help guide and inspire you to achieve your goals!