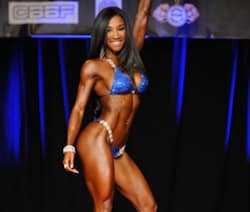 Angely Rojas
Shows/Placings:
21 shows (nationally and internationally) in 4 years. 4xs Overall Bikini Champion. Top 5: 17xs
Where are you from?
Born in Dominican Republic. Raised in The Bronx, NY.
Education:
Bachelor's degree in PR and Marketing
What got you into competing?
I wanted to live a healthy lifestyle, and push myself into achieving my best self. At the same time, I wanted to inspire others and enjoy they journey.
What do you do for fun?
I love traveling, and working out! Personal fun fact: I'm highly energetic at almost all times and love transmitting that to others.
Favorite quote: "Goals don't work unless you do"
I'm also a public speaker for Women's Empowerment and networking events. Love working and helping females to achieve their goals in every area of their lives.